Mandy Semenik is a Licensed Clinical Professional Counselor, Divorce Mediator and Divorce Coach. She has the ability to put people at ease and get to the heart of the issue. Mandy utilizes a mixture of treatment modalities to provide the best fit for her clients.
Prior to joining Polaris Counseling, Mandy worked for Lutheran Social Services of Illinois (LSSI) providing individual, couple, group and family counseling to children, adolescents and adults. During her time at LSSI, she presented educational seminars to local churches and developed a support group for girls at a local high school. Mandy also provided counseling for students, faculty and staff at Northern Illinois University following the campus shooting in 2008.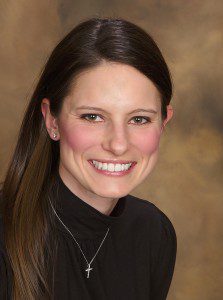 Concurrent with her role at Polaris Counseling, Mandy is an Early Childhood Mental Health Consultant at TriCity Family Services with the Caregiver Connections program. She provides consultation and professional trainings for parents, teachers and child care providers regarding all aspects of early childhood development and behavioral issues. Mandy also presents at conferences on mental health topics.
Mandy works with children, adolescents, and adults providing individual, couple and family counseling. Her areas of expertise include divorce, LGBT issues, depression, anxiety, anger management, stress management and life transitions. She also provides Christian counseling.
Mandy holds a Master's Degree in Clinical Psychology and a Bachelor's Degree in Biology from Benedictine University. She received her Divorce Mediation Training from Northwestern University and Divorce Coach Training from the Collaborative Law Institute of Illinois. Mandy has completed her Level One training in Theraplay® and Sunshine Circles at the Theraplay® Institute.
She also has completed coursework in the Doctor of Education in Higher Education and Organizational Change program at Benedictine University. Currently, Mandy is working towards becoming a Certified Alcohol and Other Drug Counselor (CADC) at the College of DuPage.
As a former NCAA head coach and four sport student athlete, Mandy continues to participate in competitive athletics and training. She enjoys traveling to exotic places and engaging in activities like surfing, beach volleyball, and scuba diving.
What people are saying about Mandy:
"Mandy made me feel very comfortable in counseling. As someone who never believed in counseling, it felt good to have Mandy as a counselor. Everyone always said I should go to counseling and I said "yeah right!" Mandy gave me a comfortable environment to open up and talk. I was able to work on my anger and stress. For over 3 years, Mandy helped me get through numerous life changes, including my divorce. Just knowing that I have a place where I can talk about my feelings without being judged is important. I feel comfortable knowing that Mandy is there if I need to talk. I am now able to manage my anger and express my feelings in an appropriate way. I have a new outlook and appreciation for counseling because of Mandy."
Mandy's Recommended Readings: