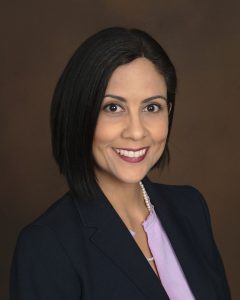 Rosa Salas, LMFT, PhD is a Licensed Marriage and Family Therapist with experience in working with individuals and couples. Rosa works with individuals who are dealing with stressful and difficult situations with compassion and empathizes with her clients, giving her full attention to understand their circumstances, values, and goals. Her treatment orientation includes Cognitive-Behavioral Therapy, Solution Focused Therapy, Christian Counseling, and Eye Movement Desensitization Reprocessing (EMDR), while utilizing a holistic approach according to the individual needs of the client.
Dr. Salas has worked as a Case Manager for senior services, starting in 1994, and for the state of Massachusetts Department of Social Services child adoption units. In addition, Rosa has worked as a School Guidance Counselor for middle schools in the states of Massachusetts and Florida. She began working in the mental health field in 2003 as a Master level therapist, working with children, adolescents, and adults in a private non-profit agency in the Greater Orlando, FL area, where she also worked in their Partial Hospitalization Program as a licensed clinician, working with individuals who were experiencing increased symptomatology, disturbances in behavior, or other conditions that impact mental and behavioral health. Rosa has also worked as an adjunct instructor of Psychology for Valencia College for a period of 5 years and volunteered as a Job Readiness instructor for Christian Help Employment Assistance.
Dr. Salas goal is to help her clients manage and overcome emotional concerns and issues, listening and asking questions to help understand situations and develop strategies to improve their lives. She enjoys assisting in processing the reactions and adjustments to difficult changes in people's lives and guide them through the process of making decisions about the future.
Dr. Salas holds a Doctor of Philosophy in Professional Counseling/Human Services and a Master of Science in Industrial/Organizational Psychology from Capella University. She also holds a Master of Arts degree in Guidance Counseling/Educational Psychology from American International College, a Bachelor of Arts degree in Sociology/Psychology from Elms College, and a Ministry Certification from Southeastern University. She is a mother of a college-aged son and enjoys bicycle riding and traveling.
Para información sobre la Dra. Salas en español, por favor presione aquí
What people are saying about Dr. Salas:
"I have been a client of Dr Salas for a couple of years. She is very passionate, knowledgeable, resourceful, and down right just a sweetheart! My experience with her over the years has assisted me in becoming more resourceful in handling things or people that I can't control no matter what the platform. Using the various tools has taught me to not be offended, but to redirect my thinking to a positive. If YOU want positive results from a reliable and certified counseling, I suggest you check Doctor Salas out. I promise, you will not be disappointed!"…
Dr. Salas Recommended Readings:
Mastery of Your Anxiety and Panic: Workbook (Treatments That Work) – David H. Barlow & Michelle G. Craske
Codependent No More: How to Stop Controlling Others and Start Caring for Yourself – Melody Beattie
Women Who Love Too Much: When You Keep Wishing and Hoping He'll Change – Robin Norwood
Making Peace with Your Parents: The Key to Enriching Your Life and All Your Relationships – Harold Bloomfield & Leonard Felder
The Total Money Makeover: Classic Edition: A Proven Plan for Financial Fitness – Dave Ramsey
When Bad Things Happen to Good People – Harold S. Kushner
How Can It Be All Right When Everything Is All Wrong? – Lewis B. Smedes
What to Say When You Talk to Yourself – Shad Helmstetter
The Relaxation and Stress Reduction Workbook for Teens: CBT Skills to Help You Deal with Worry and Anxiety –  Michael A. Tompkins & Jonathan R. Barkin
Daily Relaxer: Relax Your Body, Calm Your Mind, and Refresh Your Spirit – Patrick Fanning & Matthew McKay