Elizabeth Dubiel is a Licensed Clinical Professional Counselor and a licensed educator/counselor with professional experience working with individuals, groups, couples, and families. Elizabeth believes that positive change occurs through the process of combining the existing strengths of her clients with new strategies and supports. Her goal is to ensure that each session is preventative, proactive, and empowering, and wants her clients to walk away from each session with tools they can use immediately to help make things more manageable. Helping families and improving individual lives is her passion.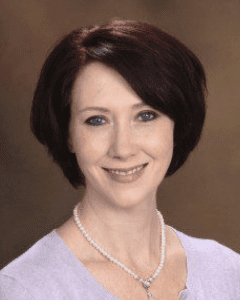 Before joining Polaris, Elizabeth worked as a licensed professional counselor in a private practice in the southside of Chicago and as a counselor in a suburban public school system. Elizabeth has been an adolescent counselor since 2004, and she was an elementary teacher prior to that. She can help with a variety of concerns but she has extensive experience working with: anxiety, grief, social phobia, school phobia, bullying, stress management, adjustment issues, self-esteem issues, disabilities, divorce, teen/young mothers, self-injury, college/career planning, relationship issues, recovering from trauma, LGBT issues, eating disorders, depression, and creating IEP/504 plans. Elizabeth enjoys working with individuals of faith. She is a certified Stephens minister and can provide Christian counseling upon request. In this faith-based approach to treatment she incorporates the teachings of the bible within a traditional counseling framework. Elizabeth also has a certification in mental health first aid through Linden Oaks.
Elizabeth has a masters degree in Counseling from Northeastern Illinois University, a masters degree in Educational Leadership from Olivet Nazarene University, and a Bachelors of Science degree in Elementary Education (with an emphasis in Early Childhood Education) from the University of Wisconsin—Whitewater. Elizabeth is a wife and mother of four young children. In her freetime, Elizabeth loves to cook, read, and watch classic movies.
What people are saying about Elizabeth:
"About a half a year ago, I decided to seek out grief counseling for depression and anxiety. I had lost my father about two and a half years ago and my life was in a slow downward spiral until I went to see Elizabeth Dubiel. Through our visits she helped me work through my hard times and was very helpful to get me back on track. Everyday tasks seemed very difficult and hard to do. Today I can say that she was so insightful and supportive and, with her help, I am back to my old self – taking the bull by the horns. In the beginning, I was talked into therapy and I didn't think it worked and to my surprise it has worked wonders."…
Elizabeth's Recommended Readings:
Emotional Intelligence – Daniel Goleman
Choice Theory – William Glasser
Get Out of My Life, but First Can you Drive Me & Cheryl to the Mall – Anthony E. Wolf PhD
The Marriage Clinic – John M. Gottman
The Grieving Teen – Helen Fitzgerald
Joshua – Joseph E. Girzone
Speaking the Truth in Love: How to be an Assertive Christian – Ruth Koch & Kenneth Haugk
The Explosive Child: A New Approach to Understanding and Parenting Easily Frustrated, Chronically Inflexible Children – Ross Greene
10% Happier – Dan Harris
The Book of Joy – Dalai Lama, Archbishop Desmond Tutu & Douglas Abrams