Jaclyn is a Licensed Clinical Social Worker who has a passion for working with children, adolescents, young adults and their families. In addition to working at Polaris, Jaclyn currently works as a school social worker in an elementary school setting. She also has previous experience working in a residential treatment environment with women and adolescent girls struggling with substance abuse, eating disorders, trauma, and co-occurring disorders.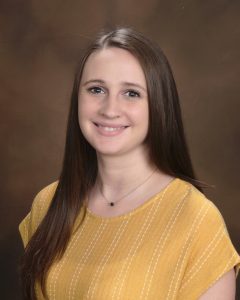 Her work focuses on navigating issues, such as anxiety, depression, ADHD, Autism Spectrum Disorders, trauma, stress, self-esteem, family conflict and difficult life adjustments. Jaclyn also has a unique understanding of the school environment in which she uses to support children and adolescents with school issues and behavior concerns. Jaclyn aims to help clients increase their self-awareness, self-management, interpersonal and decision making skills through a blend of evidenced based theoretical approaches. She builds a unique relationship with each client and develops a personalized approach. Jaclyn values the importance of helping clients understand their thoughts, feelings and perceptions in order to make positive changes. She looks forward to helping clients identify their goals and gain the tools to achieve those goals.
Jaclyn earned a Master's Degree in Social Work from Aurora University with concentration in School Based Social Work. She also holds a Bachelor's degree in Social Work from Illinois State University with a focus on child welfare. Jaclyn enjoys yoga, hiking, kayaking and cuddling with her Pembroke Welsh Corgi dog, Milo.
What people are saying about Jaclyn:
"Jaclyn was a HUGE help to my son. She worked with him to help express his feelings and feel better about himself. I could see his self-confidence change after he began therapy.  He was better able to handle the daily frustrations that would previously cause him to melt down. It also helped his relationships with teammates on his baseball team. Before working with Jaclyn, he would become angry or cry when something wasn't going his way on the field. He learned coping strategies and self-talk statements to use in the moment. Learning these skills, plus the overall increase in his positive self-esteem made such a huge difference."
Jaclyn's Recommended Readings:
Children
What Do You Do With a Problem? – Kobi Yamada
Unstoppable Me!: 10 Ways to Soar Through Life – Dr. Wayne W. Dyer, Kristina Tracy
The 7 Habits of Happy Kids – Sean Covey
It's Hard To Be a Verb! – Julia Cook and Carrie Hartman
My Mouth Is a Volcano! – Julia Cook and Carrie Hartman
The Positive Dog: A Story About the Power of Positivity – Jon Gordon
Teen
Stuff That Sucks: A Teen's Guide to Accepting What You Can't Change and Committing to What You Can (The Instant Help Solutions Series) – Ben Sedley PhD
Just As You Are: A Teen's Guide to Self-Acceptance and Lasting Self-Esteem (The Instant Help Solutions Series) – Michelle Skeen PsyD, Kelly Skeen
Start Where You Are: A Journal for Self-Exploration – Meera Lee Patel
Adult/Parent
The Highly Sensitive Child: Helping Our Children Thrive When The World Overwhelms Them – Elaine N. Aron Ph.D.
The Teenage Brain: A Neuroscientist's Survival Guide to Raising Adolescents and Young Adults – Frances E. Jensen and Amy Ellis Nutt
Raising Human Beings: Creating a Collaborative Partnership with Your Child – Ross W. Greene Ph.D.