Veronica Cecil is a Licensed Clinical Social Worker (LCSW) who has many years of experience working with children, adolescents, and adults who are experiencing transition, loss, and change. Through her experience with individuals, couples, and families, she has found counseling can be a great resource to have a comfortable and neutral place to talk about difficult topics and to find new tools to navigate individual and family changes.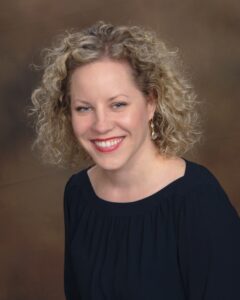 She has experience providing trauma informed therapy and values family centered care. Veronica has worked in a variety of different environments including hospital medical social work, crisis centers, and community mental health centers. Veronica can provide services in both English and Spanish and supports affirming strengths-based care.
Veronica is a transplant from the East Coast, and grew up in Virginia. She received her undergraduate degree in English from University of Virginia and her Master of Social Work degree from Dominican University in River Forest, IL. Veronica likes attending plays, doing yoga and hiking on new adventures with her daughter!
Veronica's Recommended Readings:
For Children:
No More Hitting for Little Hamster – Bernette Ford
My Mouth is a Volcano – Julia Cook
My Body Belongs to Me – Jill Starishevsky 
The Invisible String – Patricia Karst
Breathe like a Bear: 30 Mindful Moments for Kids to Feel Calm and Focused – Kira Willey
For Parenting:
Raising Your Spirited Child – Mary Sheedy Kurcinka
The Five Love Languages of Children – Gary Chapman, Ross Campbell) 
The Whole Brain Child – Daniel Siegel 
The Conscious Parent – Dr. Shefali Tsabary 
For Adults/Couples:
The Gifts of Imperfection: Let Go of Who You Think You are Supposed to Be and Embrace Who You Are – Brene Brown
What Happened to You? Conversations on Trauma, Resilience, and Healing – Bruce Perry and Oprah Winfrey
The Body Keeps the Score: Brain, Mind, and Body in the Healing of Trauma – Bessel Van der Kolk
Boundaries (Series) – Henry Cloud and John Townsend 
The Five Love Languages – Gary Chapman 
Taming the Tiger Within: Meditation on Transforming Difficult Emotions – Thich Nhat Hanh
When Things Fall Apart – Pema Chodron
Dopamine Nation: Finding Balance in the Age of Indulgence – Anna Lembke
Heartbroken Open – Kristine Carlson
This Naked Mind – Annie Grace