Emily Sliwa is a Licensed Clinical Professional Counselor (LCPC) with over 20 years of experience working with a variety of populations in various settings. She has an extensive background working with children, adolescents, geriatrics, families and couples. Emily has worked with individuals struggling with Anxiety, Depression, Attention Deficit Disorder, Oppositional Defiant Disorder, trauma histories, grief/loss, people with disabilities, Autism, and Adjustment Disorders. She feels that taking the initial step to seek out therapy takes extraordinary courage; therefore, she strives to develop a safe space that is comfortable and supportive and works extremely hard to build rapport with her clients.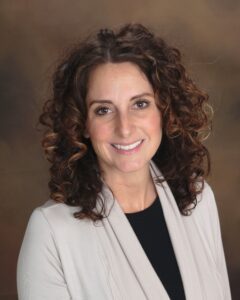 She utilizes an eclectic approach in therapy, as she feels it is the responsibility of the clinician to be able to pull from a variety of modalities that best meets the needs of her clients. Some of the most utilized modalities are cognitive-behavioral therapy (CBT), solution-focused therapy (SFT), dialectical behavioral therapy (DBT), trauma informed therapy, family systems and Gottman's approach to couples' treatment. The ultimate goal is to always help others realize how amazing they are and can be, and help support them in maximizing their absolute full potential.
Prior to Polaris Counseling, Emily worked with individuals with disabilities and co-occurring mental health diagnoses. Emily has dedicated a large part of her career to working with and supporting individuals and families with Intellectual and Developmental Disabilities. Her last job was providing home-based therapy to individuals, families and couples. Prior to that, Emily worked at a residential treatment facility with children and adolescents with behavioral disorders and significant trauma history. While at that residential facility, Emily provided therapy to the families and parents to increase the quality of life for each member of the family unit. Emily has also worked in corporate settings managing mental health and substance abuse treatment.  She was the Director of Social Services at a skilled nursing facility, where she provided extensive therapy for depression, anxiety and co-existing medical diagnoses. During her time at the nursing facility, she engaged in extensive grief/loss counseling not only with the geriatric clientele but also with their loved ones. No matter the environment, Emily's goals remain consistent; support, educate, walk alongside individuals/families/couples to assist in understanding their mental health issues, assist with improving the family unit, and to create a safe and non-judgmental space.
Emily holds a Master's Degree in Community Counseling from Roosevelt University in Chicago and a Bachelor's Degree in Sociology from Ball State University. She was born and raised in the Midwest, having lived in Illinois for the greater portion of her adult life. Emily has three boys who keep her constantly active and involved in everything from board games, to sports, to the "coolest trends" amongst children and adolescents. She enjoys spending time with family, being outside when it's warm (she hates the cold), staying physically active, traveling and reading!
What people are saying about Emily:
"Emily is the BEST! She changed the life of our 17 year old son, and our entire family. We were struggling with aggressive and socially unacceptable behavior at school and at home, and then we started working with Emily. She provided us with plans, tools, and perspectives we had not previously known or considered, and walked along side us the entire way. Emily has a kind, calm, caring, and understanding manner that put us at ease from our first session. She was able to establish a trusting relationship with our son and helped him to process his emotions in a different, more productive way. She taught us better ways of encouraging better behavior. Our son is now able to process and express his emotions without becoming angry and aggressive, and that is huge! It is so rewarding to see the boost in his confidence! We will be forever grateful to Emily!"
Emily's Recommended Readings:
The Courage to Heal – Ellen Bass & Laura Davis
I Hate You, Don't Leave Me – Jerold Kreisman & Hal Straus
Thriving with ADHD – Kelli Miller
Smart But Scattered – Peg Dawson
Scream Free Parenting – Hal Edward Runkel
Transforming the Intense Child – Howard Glasser
Loving Someone with Anxiety – Kate Thieda
The Emotionally Absent Mother – Jasmin Lee Cori
Mothers Who Can't Love – Susan Forward
The Five Love Languages – Gary Chapman
The Marriage Clinic – John Gottman
Seven Principles for Making Marriage Work – John Gottman