James Smithers is a Licensed Clinical Professional Counselor and is the Founder and President of Polaris Counseling. For over a decade, his passion for helping others has led him to become a counselor, consultant and advocate. As a father of a blended family of five children, and an experienced clinician, James knows how physical, emotional and socioeconomic factors can impact even the strongest of individuals, couples and families. James founded Polaris Counseling to give special attention to the unique needs of his clients in a warm, friendly and supportive environment.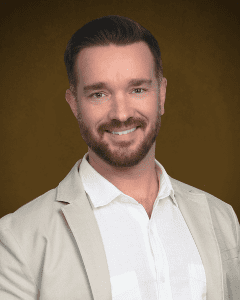 James specializes in couples and family counseling and works extensively with clients who are struggling with depression, anxiety and anger-management issues. He utilizes a variety of different approaches to treatment including; cognitive-behavioral therapy (CBT), emotionally-focused therapy (EFT), solution-focused therapy (SFT), family systems, structural family therapy and Gottman's approach to couples treatment. James strongly believes that no single approach to treatment works for every client, and that counselors have a responsibility to be well versed in a variety of different modalities to help their clients maximize their full potential in treatment.
Prior to founding Polaris Counseling, James worked in private practice specializing in couples and family therapy, and for DuPage County Health Department. In his work with the county as the Individual Care Grant Coordinator, he piloted a state funded position that supervised and facilitated the transition of children suffering with severe mental illness and developmental delays from residential facilities back into community based programs and services that allowed them to live at home with their families. He has also worked with incarcerated youth at a medium-security state penitentiary where he worked closely with his clients and their families in understanding and managing their mental health issues, changing their family dynamic and home environment, and increasing their support systems within the community.
James holds a Master's Degree from the Illinois School of Professional Psychology and a Bachelor's Degree from North Central College. He was born and raised about 30 miles south-east of London, England and moved to Chicago in 1998. He enjoys travel, golf, DIY home projects, backcountry camping, climbing and soccer with his boys, and princess tea parties and singing (rather badly!) with his little girl!
What people are saying about James:
"Before setting up a time for my first visit with James I was somewhat reluctant to discuss personal problems with a counselor. This was because I was taught to work out problems by myself or with friends. Because parts of my life had gotten to a certain point where I could no longer figure things out I agreed to come in and speak with him. I was surprised to find out that a person could have a style that would make me feel comfortable. Most sessions I just talked about items of my life that I couldn't really figure out. I found these conversations most beneficial. We talked through various items that helped me see what I had done, and developed plans for the future. It was a very positive experience for me and I would highly recommend James to others that need to figure a basis for going towards the future."
James' Recommended Readings: