Stacy Schmidt is a Licensed Clinical Social Worker with about about a decade of experience working with children, adolescents, couples and families. With a passion for Children and Adolescents, Stacy has spent most of her career working with Children, Adolescents and their families. More recently, she has enjoyed working with couples struggling with a variety of different interpersonal and relationship issues. Stacy received her Master's Degree at Illinois State University, with a concentration in School Social Work. Most of Stacy's career has been spent working in the community, schools, hospitals, and private practice settings.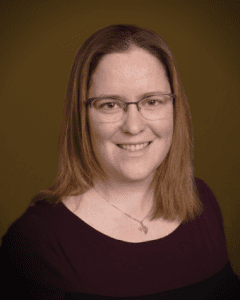 Stacy has experience with diagnosable disorders, mental illness, trauma, interpersonal relationship conflicts, grief and loss, adoption, as well as the every day challenges that we all face. Stacy focuses on assisting people in a supportive approach utilizing a variety of methods including Mindfulness, Cognitive Behavioral Therapy, Acceptance and Commitment Therapy, Client Centered Therapy, Solution Focused, Psychotherapy and Play Therapy. Stacy enjoys focusing on an individual or family's strengths and building from there. Stacy's professional experience and dedication to her clients will provide you with a comfortable and safe environment to work together to explore concerns influencing your quality of life.
Stacy enjoys spending time with her family and her friends. Stacy has two cats who always leave her with a story to tell. Stacy is a proud Aunt of 3 who she gets to spoil as often as possible. Stacy enjoys reading, listening to music, and traveling as often as possible. Stacy is a dedicated Cubs fan!
What people are saying about Stacy:
"Stacy is a talented therapist that I feel safe and comfortable talking to about anything and everything."
Stacy's Recommended Readings:
Born For Love – Maia Szalavitz & Bruce D. Perry
The Boy Who Was Raised As A Dog – Bruce D. Perry & Maia Szalavitz
The 5 Love Languages of Children – Gary Chapman and Ross Campbell
Parenting with Love and Logic – Foster Cline and Jim Fay
Parenting Teens with Love and Logic: Preparing Adolescents for Responsible Adulthood – Foster Cline and Jim Fay
The Body Keeps Score: Brain, Mind, and Body in Healing of Trauma – Bessel van der Kolk M.D.
Co-Dependent No More – Melody Beattie
The Four Agreements – Don Miguel Ruiz
I Hate You-Dont Leave Me – Jerold J. Kreisman
No Drama Discipline: The Whole Brain Way To Calm The Chaos and Nurture Your Child's Developing Mind – Daniel J. Siegel
Parenting from the Inside Out : How a Deeper Self-Understanding Can Help You Raise Children That Thrive – Daniel J. Siegel
Ophelia Speaks: Adolescent Girls Write About Their Search For Self – Sara Shandler
Reviving Ophelia: Saving The Selves of Adolescent Girls – Mary Pipher PhD
Ophelia's Mom: Women Speak out About Loving and Letting Go of Their Adolescent Daughters – Nina Shandler, ED. DD